Puppet Labs just released the 2014 State of DevOps Report. The research team interviewed companies from multiple industries and various sizes, from startups to global firms with over 10,000 employees and had over 9,200 respondents in all. The report shows us that not only is DevOps working within the enterprise, but it is also driving higher employee satisfaction.
"This year's survey is the first rigorous study to confirm that DevOps practices and strong IT performance can drive real business value. Now we have the data to back up our contention that IT should be treated as a strategic asset to the business, not a cost center. Organizations that get this are going to pull ahead of competitors, getting their products to market faster and responding more quickly to customer feedback." - Nigel Kersten, CIO of Puppet Labs
Key Findings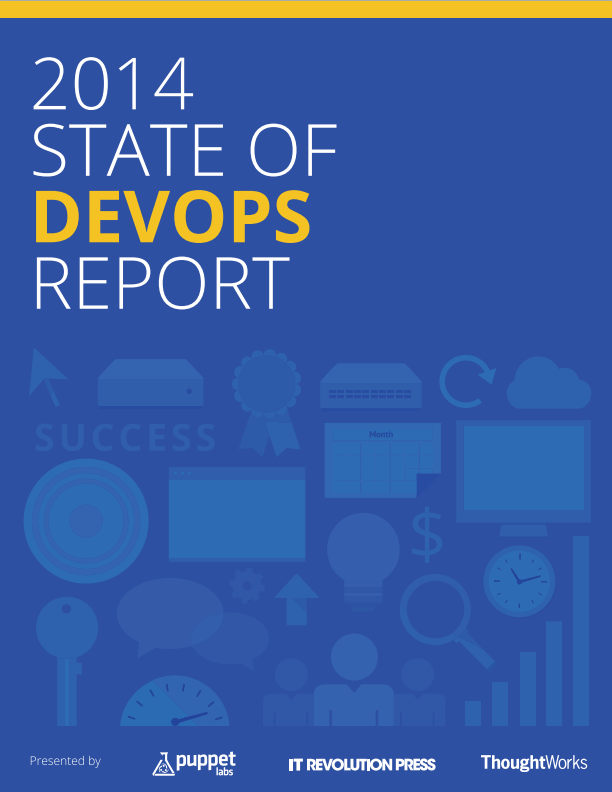 Last year's key finding was high-performing organizations are deploying code 30 times more often with 50% fewer failures. This year's findings reaffirms those numbers but also teaches us that high IT performance correlates with strong business performance, helping to boost 2x a enterprise's productivity, profitability, and market share. As has been said before, DevOps is not about IT transformation - it is about business transformation - and this report helps put the DevOps indicators in business context for those who see the best results.
Culture was a major topic in the report. Results-oriented cultures are paramount for making DevOps work within a company – no matter the size. Characteristics of performance-oriented cultures include high trust, focus on continuous improvement, and encouragement of experimentation. In this type of culture, the IT blame game is not the de facto approach to solving issues and working together. Instead, issues are looked at as learning opportunities. Rigid and bureaucratic cultures will not foster IT performance.
Analysis of the report also shows that IT performance strongly correlates with well-known DevOps practices such as use of version control, system and application monitoring and continuous delivery & integration. Not surprising, organizations practicing DevOps principles benefit from a cycle of continuous learning and improvement that helps them move ahead of the competition.
Other key findings from the Puppet Labs' 2014 State of DevOps Report include:

Job satisfaction: Job satisfaction is the number one predictor of organizational performance and DevOps practices increase employee satisfaction, leading to better business outcomes.

Change rate: High performing IT organizations have 50% lower change fail rates than medium and low performing IT organizations.

DevOps maturity: DevOps maturity was highly correlated with deployment frequency. Deployment is often the biggest pain point leading to the implementation of DevOps practices.

Climate for learning: Open information flow, cross-functional collaboration, shared responsibilities, learning from failures and new ideas are at the heart of DevOps, and correlate strongly with high organizational performance.

DevOps teams: The creation of DevOps teams are definitely a growing trend (16% of respondents were part of a DevOps department) with 55% of respondents self-identifying as DevOps engineers or systems engineers.

DevOps tools: The recommendation is to let the engineers pick the tools. Too often, tools are dictated to the people who have to use them and they often become bottlenecks or negative constraints. Let the people who do the work pick the best tools to get their job done.
Top 5 Recommendations from the State of DevOps Report
The report closes with top recommendations for practitioners and managers to improve their organization's practices. The report's authors make a number of recommendation to help DevOps be successful for both practitioners and managers and make it perfectly clear that there is no secret recipe or silver bullet for DevOps. The most powerful ones for me were:
Make invisible work visible

Actively reward work that facilitates collaboration

Make it safe to fail

Automate the things that are painful

Make monitoring a priority
Overall, a really excellent report that helps move the DevOps conversation forward. The State of DevOps report now gives all of us the quantitative data to make the statement that DevOps is not just for startups as it provides value within Enterprises both large and small. The next time somebody says that DevOps is not for the enterprise, just refer them to the State of DevOps 2014 Report and demand that they back up their opinions with real world data.