It's practically a national tradition that Americans collectively spend about one year out of every four obsessing over the group of people who are in the running for a job which is undoubtedly awful to actually have. Every part of their campaign is put under heavy scrutiny—their clothes, their hair, their past, their associations—and today, their websites. Let's examine how candidates are fairing online using data from tools such as BuiltWith, Alexa, Google and Twitter.
Alexa USA Ranking
While Alexa's website popularity ranking is by no means an indicator of true candidate popularity, it's still interesting to see a rough gauge of how their sites are doing compared with one another.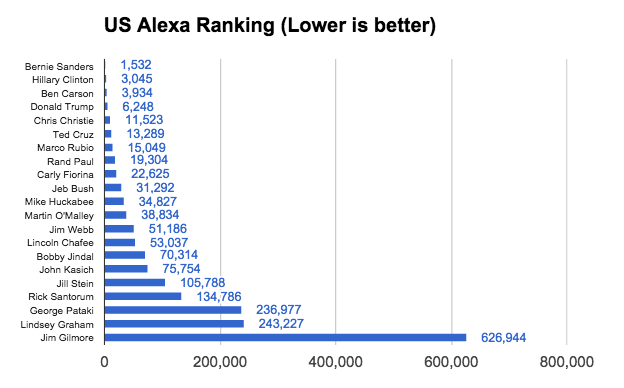 The top four here aren't much of a surprise—Trump, Clinton, Sanders, and Carson—the same four that dominate the media. Something that stands out, however, is how well Chris Christie's website is performing compared with how relatively little media attention he receives as a candidate. And Jeb Bush is relatively low for how much he receives.
Bounce Rate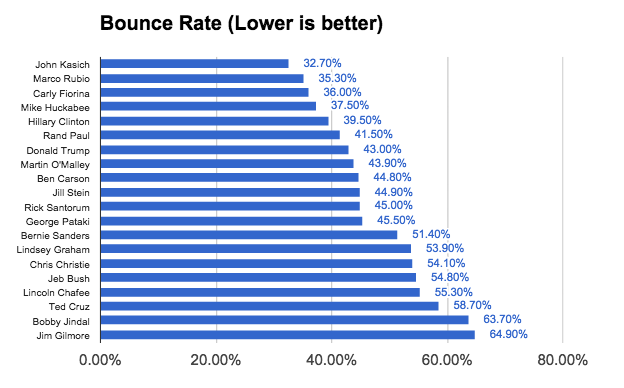 The percentage of visitors who leave the site without clicking through to another page. A low bounce rate may mean visitors are supportive and interested in learning about the candidate, so they continue on to more pages. Or it could mean that a confused public is wondering what on earth the candidate was talking about in their latest sound byte and are looking for clarification.
Pages per Visitor
Similar to Bounce Rate, this measures how many pages the average visitor views on the site. More is better. This could be indicative of visitors interested to learn more, or it could be chalked up to some other factor including a poor site layout that makes desired information difficult to find (thus, more page views are necessary).
Webserver
It's not a surprise to see a lot of nginx and Apache on this list, but... wait.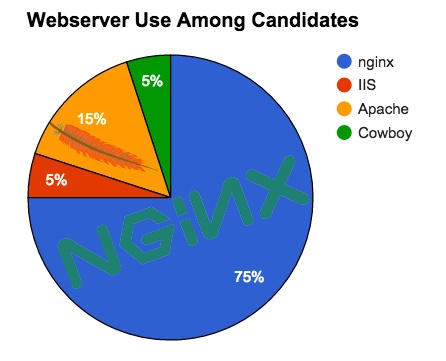 Chris Christie's site is running a webserver called Cowboy. According to its creators, Cowboy is a "small, fast, modular HTTP server" written in Erlang, which is utilized by Heroku. And it has anime in a cowboy hat for a mascot:

Ok, then.
Apache controls about 56% of webserver market share. Nginx comes in at 26%, IIS at 12.7%, and Cowboy at 0.1%
Google Analytics
Finally, something they all can agree on. Everyone uses Google Analytics—everyone.
CMS
WordPress reigns supreme here—the same WordPress which has urgent security updates on approximately a bi-monthly basis. Combining that with the fact that campaign staff members can change at any time means a CMS needing careful attention to updates might not be the best choice. Then again, many of these sites aren't designed to exist for longer than 6 months to a year anyway.
When it comes to worldwide CMS market share, WordPress has 58.8%, with ExpressionEngine, Concrete 5, and NationBuilder coming in at 0.5%, 0.2%, and <0.1% respectively.
Email
From the data we were able to gather, Google Apps is considered the go-to for campaigns, with MS Exchange a strong second.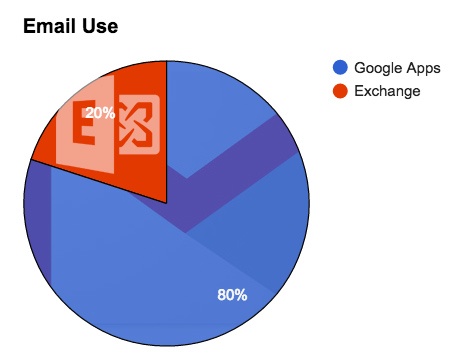 In the enterprise, Google Apps has 22.8% of the market, coming in second to Microsoft's Office365 at 25.2%.
Frameworks
PHP (generally by way of WordPress) and Ruby on Rails are popular with candidates. ASP comes out of left field and is seen in use—in the year 2015, no less—on Mike Huckabee's campaign site.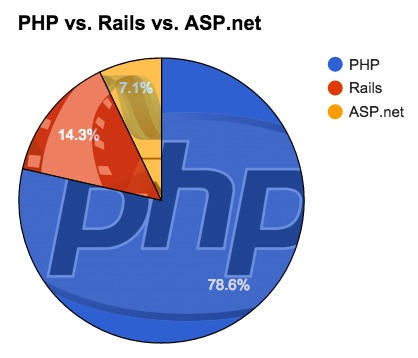 When it comes to framework usage worldwide, PHP comes in at 30%, Rails (and Rails Token) at a combined 10%, and ASP.NET at 4%.
Optimizely
Twenty percent of campaign websites are using Optimizely, a popular A/B testing tool. For those unfamiliar with online marketing, A/B tools like Optimizely allow you to try multiple variations on a page at the same time, subjecting some users to variant A and others to variant B, then measure the results.

They may be using A/B tests to float potential campaign slogans, approaches, or even put various pieces of their platform front and center to see which play the best with the average person. Whatever the case, it's safe to say the following campaigns are acutely aware of their content layout and what messages they're conveying. And they're probably tweaking their online strategy according to how users react.
Side note: One of Optimizely's creators also served as the Director of Analytics for the Obama campaign.
Twemoji
A message that resonates with young voters could potentially carry a candidate to the White House. The following candidates are trying really hard (maybe too hard) to reach 18-30 voters by having the Twitter's Twemoji widget present on their site, whether they're actively using it or not.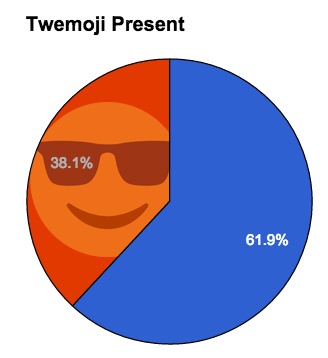 Bernie Sanders, Marco Rubio, Ted Cruz, Jeb Bush, Lincoln Chafee, Jim Gilmore and Lindsey Graham: We see you.
HTTPS / SSL
HTTPS is being used by nearly every serious website out there, and for good reason. Even Google has gone to great lengths to promote the use of HTTPS by slightly boosting the search ranking of sites using it. We didn't expect to find any candidates going without, but interestingly enough, the most security-minded candidate of all is entirely SSL-less: Mr. Lindsey Graham.

It should be noted that Graham's campaign site is positively littered with references to security. In fact, it seems to be the foundation of his campaign platform. That platform, however, is delivered to voters over insecure HTTP.

In addition, Green Party candidate Jill Stein's campaign site carries an invalid SSL certificate, as does Ben Carson's online store. C'mon, gang.
Zendesk
Both Marco Rubio and Ben Carson use Zendesk, the wildly popular ticketing and knowledge base platform. Way to keep organized.
Analyses
We've excluded Clinton and Trump from the following two charts, since they both have over 4.5 million Twitter followers and would blow the charts out completely. Let's start with Alexa Rank vs. Twitter Followers.
The theory behind the creation of this chart is that there should be a relatively consistent trendline in how well any given campaign site is trafficked against how many followers the candidate has on Twitter. Candidates with more interesting things to say on Twitter (and thus, more followers) should, in theory, have a website that performs at about the same proportion. And there is certainly a bit of a trend.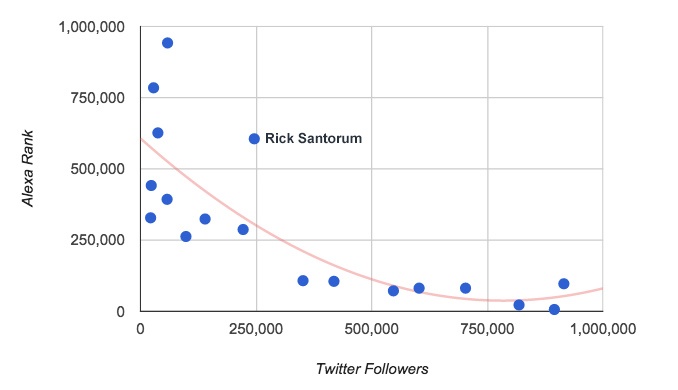 Our X-axis is each candidate's Twitter follower count, where a higher value is more beneficial. On the Y-axis is the candidate's Alexa ranking, where lower is better. Generally speaking, candidates closer to the bottom right are doing better in both areas. The trendline represents the average of how a candidate's website performs compared to their follower count. From this, if I have about 500,000 followers, the data suggest I should have on average an Alexa rank of about 125,000.

The biggest outlier from this set is Rick Santorum, who has about a quarter of a million followers on twitter, but whose campaign site performs poorly in comparison. This could be due to his previous foray in 2012 and his leftover followers, or perhaps he is considered entertaining on Twitter but not taken seriously as a candidate. Whatever the case, it's bad news for the Santorum camp.
Let's look at another chart: Average Pageviews Per Visitor vs. Twitter Followers.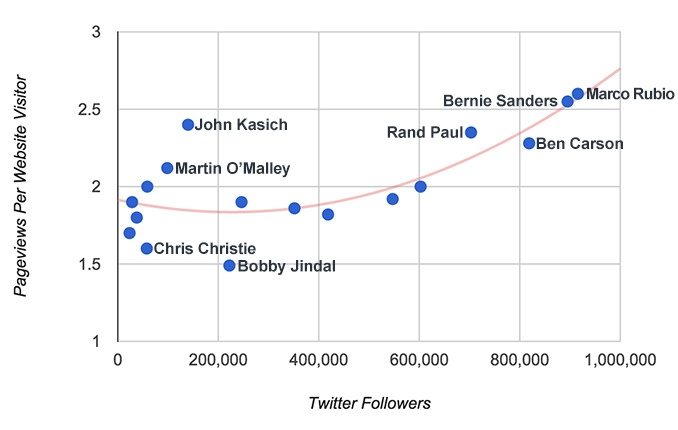 Pageviews per visitor is an interesting metric. Logic would assume more pageviews means the candidate has a more provocative platform or has greater support. But it may also mean the candidate's site has a cumbersome layout, requiring more page views to get the information people are looking for. Similarly, less pageviews may mean the candidate's site explains things people want to know on the front page, or that it suffers some technical problem that dissuades visitors from continuing on (slow load times, JS errors, annoying modals), or a third option: perhaps the content of the candidate's front page turns visitors off completely, so they leave.
All data points were collected on October 28, 2015 via BuiltWith, Google, Twitter, and Alexa.