Whether you're a CISO, Vice President or individual contributor, you understand that information technology has changed how we do business, for better and for worse.
Technology has brought speed, scale, and better customer experience to all aspects of commerce and communication, but it has also increased cybersecurity risk, particularly data breaches, cyber attacks, and other cyber threats.
The consequences of poor risk management, particularly third-party risk management and vendor risk management, are increasing in cost, reputation, and regulatory impact. According to research done by the Ponemon Institute, the average cost of a data breach globally has grown by 12 percent in the last five years to $3.92 million.
This number balloons to $8.19 million in the United States. It's safe to say it pays to prevent data breaches and data leaks.
Beyond financial costs, the reputational and regulatory impact is growing due to increasingly stringent general data protection and breach notification laws around the world. Examples include GDPR, PIPEDA, FIPA, the SHIELD Act, CCPA, and LGPD.
Many of these new regulations are extraterritorial, meaning they apply to any organization who processes the personally identifiable information (PII) or other sensitive data of any individual protected by the law, regardless of whether your organization operates in their jurisdiction.
What this all means is there is no excuse for mismanagement of your first-party and third-party cyber risk. Increasingly, you will be expected to assess the security performance of vendors who are deeper in your supply chain, i.e. fourth-party risk.
This requires the translation of the technical details security postures, cybersecurity risk assessments, vendor questionnaires, and information security policies into business terms.
An increasingly popular way to do this is through security ratings (or cybersecurity ratings) providers who offer an instantaneous assessment of cyber risk, much like a credit score does for assessing credit risk.
The issue is that the methodologies employed by these threat intelligence tools vary greatly, as do their results.
For example, BitSight, SecurityScorecard, and RiskRecon largely focus on security assessments of business partners, third-party vendors, and service providers. Read our guide on SecurityScorecard vs BitSight to learn how they stack up.
In contrast, UpGuard has a complete continuous monitoring risk management solution that can handle internal risk with our behind-the-firewall Core product, vendor risk management with our Vendor Risk product, and data leak detection and cybersecurity performance monitoring with our UpGuard BreachSight product.
In this comparison, we'll help you understand what to look for in a solution and see how BitSight, RiskRecon, and UpGuard stack up for managing Internet-facing first and third-party risk.
But before we dive into the specifics, it's important to understand what security risk ratings are.
Table of contents
What are security ratings?
Security ratings or cybersecurity ratings are a data-driven, objective, and dynamic measurement of an organization's security posture. They are created by a trusted, independent security rating platform making them valuable as an objective indicator of an organization's cybersecurity performance.
Just as credit ratings and FICO scores aim to provide a quantitative measure of credit risk, security ratings aim to provide a quantitative measure of cyber risk.
The higher the security rating, the better the organization's security posture.
Security ratings are used to assess the cybersecurity rating of external organizations like vendors, investment targets, or insurance applications, as well as assessing internal risk and improving communication about cybersecurity performance.
Read our complete guide on security ratings here.
BitSight Technologies overview
BitSight Technologies is a Cambridge-based platform for quantifying the external cybersecurity posture of organizations using publicly accessible data. The resulting FICO-like BitSight security rating can then be used by underwriters for pricing cyber insurance, 3rd party research for third-party risk teams, and due diligence research for private equity and M&A activities, and more.
These security ratings can be used for security performance management and the assessment of third and fourth-party risk. BitSight recently announced it raised $60 million in a Series D funding round.
BitSight UI. Source: bitsight.com
RiskRecon overview
RiskRecon is headquartered in Salt Lake City, UT with a presence in Boston, MA and representatives around the world. RiskRecon makes it easy to gain deep, risk contextualized insight into the cybersecurity risk performance of all third-parties by continuously monitoring across 11 security domains and 41 security criteria.
Like BitSight, it can be used for third-party risk management, enterprise risk management, and mergers & acquisitions.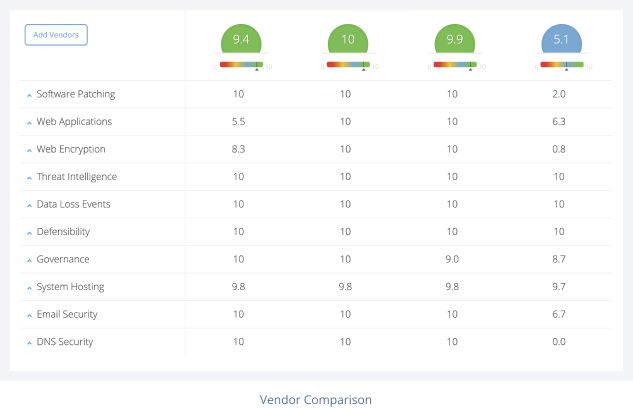 Riskrecon UI. Source: riskrecon.com
UpGuard overview
UpGuard was founded in 2012 in Sydney, Australia by technologists from Australia's largest banks. Using their first-hand experience, they built a platform to fill an important need in the nascent DevOps market, reducing the risk of incidents through proactive documentation and configuration management.
With proprietary, patented data visualization and risk analysis algorithms, UpGuard gave Operations and Security teams the ability to discover and understand their risk exposure within the data center and cloud to reduce cybersecurity risk.
We then took this expertise and applied it to the assessment of external security postures, allowing you to instantly assess an organization's external security posture instantly. UpGuard is headquartered in Mountain View, California, with offices in Sydney, Hobart, Auckland, Mexico City, Madrid, Denver, Portland, and Atlanta.
Our data breach and security research has been featured in the New York Times, Bloomberg, Washington Post, Forbes, and Techcrunch.
BitSight vs. RiskRecon vs. UpGuard
Learn about how BitSight, RiskRecon, and UpGuard stack up with our unbiased assessment of capabilities, usability, community support, release rate, API and extensibility, third-party integrations, customers, predictive capabilities, and security ratings.
​1. Capabilities
All three solutions provide security ratings, aggregated summaries of risk for immediate understanding and comparison, and their own standardize scoring methodology.
BitSight: A credit score-like rating between 250-900.
RiskRecon: RiskRecon distills its assessment criteria into a simple score from 0-10.
UpGuard: Provides a score between 0 and 950 along with the following letter grades, A: 801-950, B: 601-800, C: 401-600, D: 201-400, F: 0-200. You can

request your free security rating by clicking here.
Security rating calculation methodology
The way these security ratings are derived differ among the solutions to some degree. IP reputation relies on attributing malware traffic to an organization based on IP address, whereas scanning for misconfigurations means looking at an organization's actual Internet footprint and determining how it compares to best practices and what vulnerabilities lead to data breaches.
BitSight:

Primarily IP reputation,

read our guide on why IP attribution isn't a complete solution here.
RiskRecon: Assesses an organization against 11 security domains and 41 security criteria
UpGuard: Runs hundreds of individual checks including

email security

and

email spoofing

risks (SPF, DKIM, and

DMARC), website security (SSL, HSTS, header exposure),

phishing

and malware risk, explicit checks for 200 services across thousands of ports (mail, app, user auth, file sharing, voice, administration, database, unidentified, and

open ports),

domain hijacking

risk (DNSSEC

and domain registry issues), reputational risks (CEO rating and employee rating), credential management (exposure to known data breaches and

data leaks

detected by our data leak detection engine) and results of

intelligent security questionnaires.
Scope
Not every solution supports every vendor. Many organizations employ small specialist vendors that are not covered by solutions with a narrow scope of focus. Every vendor that handles sensitive data is a potential attack vector and should be continuously monitored for the risk they bring to your company.
BitSight: 170,000 supported organizations
RiskRecon:

unknown
UpGuard: 2,000,000 organizations scanned daily
| | BitSight | RiskRecon | UpGuard |
| --- | --- | --- | --- |
| Capability Set | 3 / 5 | 4 / 5 | 5 / 5 |
2. Usability and learning curve
Minimizing the amount of overhead required to acquire and use a solution is key to ensuring you get the most bang for your buck. All three solutions are SaaS services with minimal installation criteria. Similarly, all three use web interfaces to navigate graphical representations of cyber risk.
BitSight: Provides high-level summation of vendor risk allowing easy comparison of vendors.
RiskRecon: Provides risk prioritization based on your configured policy
UpGuard: High-level summation of risk with the ability to drill down into precise technical details. Risks are automatically prioritized based on extensive research by our in-house security team and we provide remediation and protection suggestions for all risks. Additionally, we have a library of pre-built questionnaires that can be sent and managed with the UpGuard platform including a pandemic (e.g. coronavirus), ISO 27001, PCI DSS,

NIST Cybersecurity Framework,

CCPA, and Modern Slavery questionnaires. Read our full

guide on the top security questionnaires here.
| | BitSight | RiskRecon | UpGuard |
| --- | --- | --- | --- |
| Usability and learning curve | 4 / 5 | 4 / 5 | 5 / 5 |
3. Community support
Making information publicly accessible can help customers and prospects reduce their operational overhead and provide them with the resources they need to troubleshoot, educate their staff, and make better decisions. How much each company invests in their community speaks to its mission and focus.
| | BitSight | RiskRecon | UpGuard |
| --- | --- | --- | --- |
| Community support | 3 / 5 | 3 / 5 | 5 / 5 |
4. Release rate
Technology is always changing and in turn, so is cybersecurity. The rate at which a company updates its software determines how well they can respond to customer requests and add new features, as well as how consistently it is improving its security ratings methodology.
UpGuard has always adopted DevOps principles internally to develop, test, and release software, ensuring fast and consistent releases that have been tested for quality.
| | BitSight | RiskRecon | UpGuard |
| --- | --- | --- | --- |
| Release rate | 3 / 5 | 3 / 5 | 4 / 5 |
5. Pricing and support
Security ratings providers can be very expensive, with opaque pricing policies designed to put the power in the hands of the provider. Vendor risk solutions are typically priced per vendor per year, except in some cases where one-off reports are generated for a set price. Some of the more expensive solutions price out small and medium businesses, while relegating even large companies to managing only their top few vendors. All three provide professional services to assist with setup and maintenance.
BitSight: Public pricing information is not available. Pricing is reported to start at $20,000 plus $2,000-$2,500 per vendor per year
RiskRecon:

Public pricing information is not available. Pricing is reported to start at $10,000 and increases based on the number of vendors monitored.
UpGuard: UpGuard has a transparent pricing model for

UpGuard Vendor Risk

and

UpGuard BreachSight, which

you can view here. Vendor Risk pricing starts at $179 for a one-time report on a vendor or $29 per month per vendor billed annually. UpGuard BreachSight pricing starts at $299 per month billed annually.
| | BitSight | RiskRecon | UpGuard |
| --- | --- | --- | --- |
| Pricing and support | 1 / 5 | 1 / 5 | 5 / 5 |
6. API and extensibility
Accessing the information in a security ratings product outside of its graphical interface is important for integrated business strategies and consolidating data to a preferred system. All three solutions offer standard APIs to pull data into other enterprise applications.
| | BitSight | RiskRecon | UpGuard |
| --- | --- | --- | --- |
| API and extensibility | 4 / 5 | 4 / 5 | 4 / 5 |
7. Third-party integrations
While the API is useful for building custom integrations, standard integrations can cut the overhead of tying the vendor risk product to the rest of the organization.
BitSight: Offers integrations with RSA Archer GRC, CyberGRX, OneTrust Vendorpedia, ProcessUnity, MetricStream, and more.
RiskRecon: Offers integrations with GRC platforms such as RSA Archer, Sigma Ratings, Whistic, and more.
UpGuard: Integrates with GRC platforms, ticketing systems like ServiceNow, and more.
| | BitSight | RiskRecon | UpGuard |
| --- | --- | --- | --- |
| Third-party integrations | 4 / 5 | 4 / 5 | 4 / 5 |
8. Customers
Sometimes the best proof is who else uses the product, but all three companies have impressive customer lists, with none more distinguished than the other.
BitSight: Customers include The University of North Florida, Snam, EPAM, and PROSA.
RiskRecon: Customers include Informatica, Tufts Health Plan, University of San Francisco, and Sentara.
UpGuard: Customers include NASA, the New York Stock Exchange (ICE), Morningstar, Akamai, Bill.com, IAG, and ADP.

Read our customer case studies here

and our

Gartner reviews here.
| | BitSight | RiskRecon | UpGuard |
| --- | --- | --- | --- |
| Customers | 5 / 5 | 5 / 5 | 5 / 5 |
9. Predictive capabilities
The whole point of assessing first and third-party risk is to head off incidents down the road. This makes the ability of the solution to predict data breaches and other incidents a key consideration. What differentiates predictive capability is how well the methodology that determines the security ratings applies to actual attack vectors.
BitSight: The IP reputation methodology helps catch active malware installations, but that's only one possible way a data breach can occur.
RiskRecon: RiskRecon focuses on third-party assessment across 11 security domains and 41 security criteria.
UpGuard: Because UpGuard checks for misconfigurations across the internet footprint, many important breach vectors are covered, including

phishing,

ransomware

susceptibility (like

WannaCry),

man-in-the-middle attacks,

DNSSEC,

vulnerabilities,

email spoofing,

domain hijacking, and DNS issues. The UpGuard methodology continuously refined based on the

actual data breaches

we have discovered and reported to the world in the

New York Times,

Bloomberg,

Washington Post,

Forbes, and

Techcrunch.
BitSight
RiskRecon
UpGuard
Predictive capabilities

3 / 5

4

/ 5

5 / 5
10. Security rating
Let's take a look at how all three companies compared when assessed by UpGuard's platform on March 18, 2020. Although each platform has a good security rating, UpGuard leads the pack by over 60 points.
BitSight: 706/950 or B letter grade
RiskRecon: 857/950 or A letter grade
UpGuard: 919/950 or A letter grade
| | BitSight | RiskRecon | UpGuard |
| --- | --- | --- | --- |
| Security rating | | | |
| | 3/5 | 4/5 | 5/5 |
Scoreboard and summary
| | BitSight | RiskRecon | UpGuard |
| --- | --- | --- | --- |
| Capabilities | 3 / 5 | 4 / 5 | 5 / 5 |
| Usability and learning curve | 4 / 5 | 4 / 5 | 5 / 5 |
| Community support | 3 / 5 | 3 / 5 | 5 / 5 |
| Release rate | 3 / 5 | 3 / 5 | 4 / 5 |
| Pricing and support | 1 / 5 | 1 / 5 | 5 / 5 |
| API and extensibility | 4 / 5 | 4 / 5 | 4 / 5 |
| Third-party integrations | 4 / 5 | 4 / 5 | 4 / 5 |
| Customers | 5 / 5 | 5 / 5 | 5 / 5 |
| Predictive capabilities | 3 / 5 | 4 / 5 | 5 / 5 |
| Security rating | 3 / 5 | 4 / 5 | 5 / 5 |
| Total | 3.3 | 3.6 | 4.7 |
Conclusion
Deciding on which security ratings solution best fits your needs depends on the objectives of your organization, your budget, and your preferences.
IP reputation can sometimes detect malware signals that are attributed to the address space owned by a company, but UpGuard's complete cyber resilience strategy looks at each company's internet footprint and examines all of the vectors that data exposure and service outage occur, including misconfigurations, a leading cause of successful attacks, and one undetected by IP reputation tactics.
With our pre-built library of security questionnaire, we can help you manage the entire third-party risk process, end-to-end, entirely inside our platform.
UpGuard's easy to use platform is a complete cyber security ratings platform that gives you great insight into your security posture and your vendors and how your organization's security posture is perceived from the outside. Giving you and your business partners a clear understanding of how and where to improve your cybersecurity and information security to prevent cyber attacks and reduce cybersecurity threats.
Try UpGuard for free for 7 days by clicking here. Before your 7-day trial begins, we'll provide you and your team with a free, personalized 45-minute onboarding call with one of our cybersecurity experts. They'll help you get the most out of the UpGuard platform by showing you how to:
Continuously monitor your third-party vendors
Detect and remediate any leaked credentials and data exposures
Instantly assess your external security posture
Other third-party risk management software comparisons
If you'd like to compare other third-party risk management software, see our other comparison posts: